Statement
Brown Book 2.0: A Clearinghouse for Desis in Government & Politics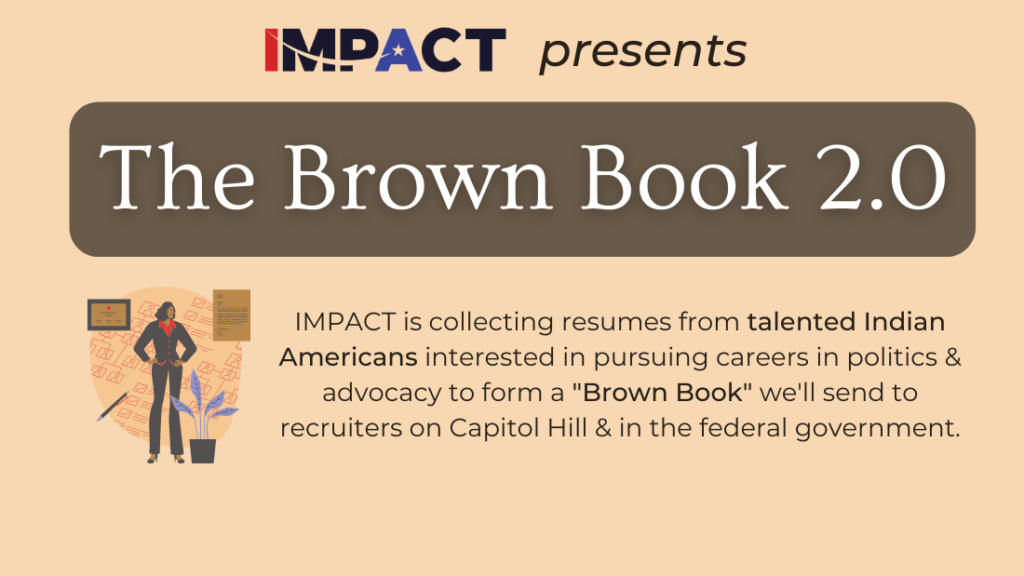 Submit your Professional Profile Today!
It's official — Joe Biden and Kamala Harris are on their way to the White House, and the Indian American community played a critical role in getting them there.
Now it's time to get to work. If you or someone you know aspires to serve in the government next year, sign up for the Brown Book 2.0 and get noticed.
As the presidential transition process is ramping up, there will be job openings across federal, state, and local governments. As the leading national political organization for Indian Americans, IMPACT is committed to making sure that our community is represented at all levels of government and politics.
The Brown Book 2.0 is the directory for Desi politicos looking for new roles in the Biden-Harris administration, on Capitol Hill, and in your local community. In 2018, IMPACT collected nearly 250 resumes for the first Brown Book, and successfully referred many candidates for leading roles in Congress and state and local governments.
To sign up for the Brown Book 2.0, please visit iaimpact.org/brownbook, complete the short survey and submit your resume.