Press Release
IMPACT Applauds Historic Election for Indian American Candidates, Voters (as of Nov. 4, 7pm ET)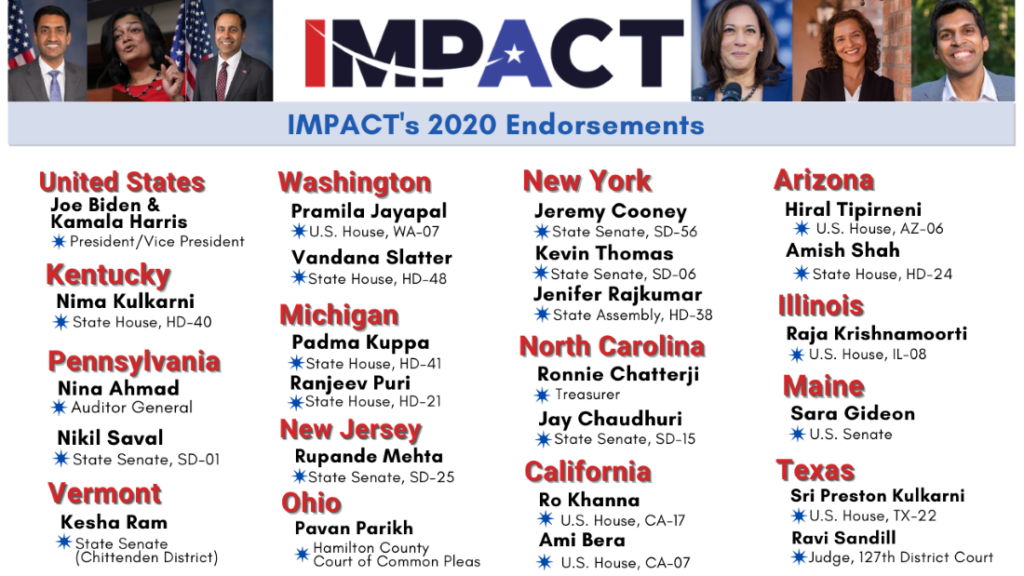 IMPACT's groundbreaking $10 million investment helped boost Indian American candidates in races across country
Neil Makhija, Executive Director of IMPACT, the leading Indian American advocacy and political action committee, issued the below statement applauding this year's historic election for Indian American candidates and voters. The election featured a record number of Indian American candidates running in key state and federal races across the country, as well as the first Indian American to be on a presidential ticket, in vice-presidential candidate Kamala Harris.
IMPACT raised a groundbreaking $10 million to support turnout efforts in the Asian American and Indian American community and to elect IMPACT's 2020 slate of candidates. The funds were invested in the presidential, state-wide, and congressional races in battleground states, including nearly $2 million apiece in Pennsylvania, Arizona, North Carolina, and Texas.
"This year's election represented a giant leap forward for Indian Americans' role in U.S. politics," Makhija said. "Indian American voters and candidates demonstrated the burgeoning power and influence of this important voting bloc in decisive fashion, which will help make the difference in key states like Michigan and Pennsylvania. Each and every Indian American candidate deserves to be recognized for their effort, and in particular I want to congratulate Kesha Ram for being the first woman of color elected to the Vermont State Senate, Nikil Saval for being the first Indian American elected to the Pennsylvania General Assembly, and Jenifer Rajkumar for being the first South Asian woman elected to New York state office."
Fast Facts
Asian Americans are the fastest-growing racial or ethnic voting bloc in the country.
There are projected to be 2 million Indian American voters in this year's election.
Indian Americans register and vote at higher rates.
This year, there will be nearly 500,000 Indian American voters in the battleground states of Florida, Pennsylvania, and Michigan.
The number of Indian Americans in Congress has grown five-fold in just the past eight years.
2020 AAPI Voter Turnout Stats
The AAPI vote in Pennsylvania is on track for record turnout outpacing 2016 turnout: with 56,000 mail-ins alone, above the margin by which Trump won in 2016.
In Arizona, the early AAPI vote (17,738) surpassed the total AAPI vote in 2016 (12,554) by nearly 50 percent.
In AZ-06, the early AAPI vote in 2020 (2,006) nearly doubled 2016 early vote levels (1,175), and surpassed total 2016 AAPI turnout (1,862).
The early AAPI vote in North Carolina (55,401) more than doubled 2016's early AAPI vote totals (25,413), indicating record-breaking AAPI turnout once all votes have been tallied.
In Texas, the AAPI vote surpassed the total AAPI vote for 2016 by 228%, and is the highest growth among any demographic group.
IMPACT-endorsed candidates elected last night
Jenifer Rajkumar (NY, State Assembly District 38), 67-26
Nima Kulkarni (KY State House, HD-40)
Kesha Ram (VT, State Senate)
Nikil Saval (PA, State Senate)
Jeremy Cooney (NY, State Senate, SD-56), 47-46
Pramila Jayapal (WA-07, U.S. House), 85-15
Ro Khanna (CA-17, U.S. House), 74-26
Ami Bera (CA-07, U.S. House), 61-39
Raja Krishnamoorthi (IL-08, U.S. House), 71-29
Vandana Slatter (WA, State House District 48), 73-27
Padma Kuppa (MI, State House 41), 55-45
Jay Chaudhuri (NC, State Senate), 58-36
Ravi Sandill (TX, 127th District Court Judge), 54-46
Amish Shah (U.S., State House AZ-24), 37-36
Ranjeev Puri (MI State House, District 21), 53-47
Click here for details on individual races.
IMPACT-endorsed candidates in yet undecided races:
Joe Biden and Kamala Harris (President and Vice President)
Hiral Tipirneni (AZ-06, U.S. House), leading 50.3-49.7
Rupande Mehta (NJ, State Senate), leading 51-49
Nina Ahmad (PA, Auditor General), trailing 40-55