2022 Impact Get Out The Vote – PA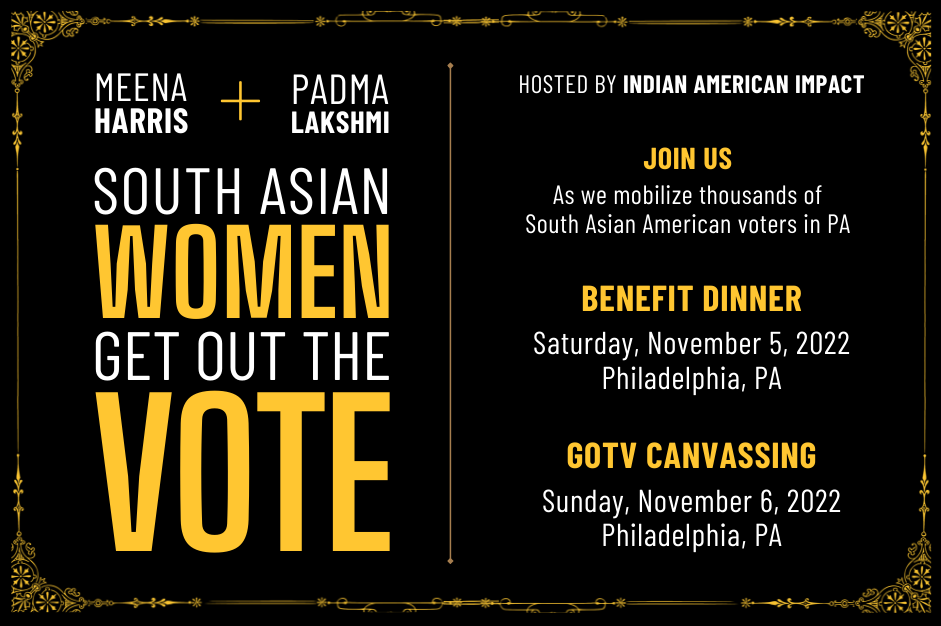 2022 Impact Get Out The Vote
Given the persistent attacks on abortion care, voting rights, and even children's books, the stakes couldn't be higher this election — and we are calling upon our community to help get out the vote in key states like Pennsylvania, where there more than 100,000 South Asian American voters to turn out. With your help, our communities can be the margin of victory just as we were in Georgia in 2020.
Join Top Chef host Padma Lakshmi, Founder & CEO of Phenomenal Media Meena Harris, Rep. Pramila Jayapal, and dozens of other leaders across different sectors and from diverse backgrounds for an exciting weekend highlighted by a canvass launch with food, music, and distinguished speakers before we knock on doors and get out the Desi vote to support the issues that matter most to our community.
Can we count on you to help us get out the vote? Sign up for our canvass launch below.
Before the canvass on Saturday November 5th, we are hosting an exclusive welcome and benefit dinner with prominent South Asian women across industries, as well as elected leaders like Rep. Pramila Jayapal. If you would like to purchase a ticket to the dinner, please click the link below and buy a ticket now!