2022 Impact Get Out The Vote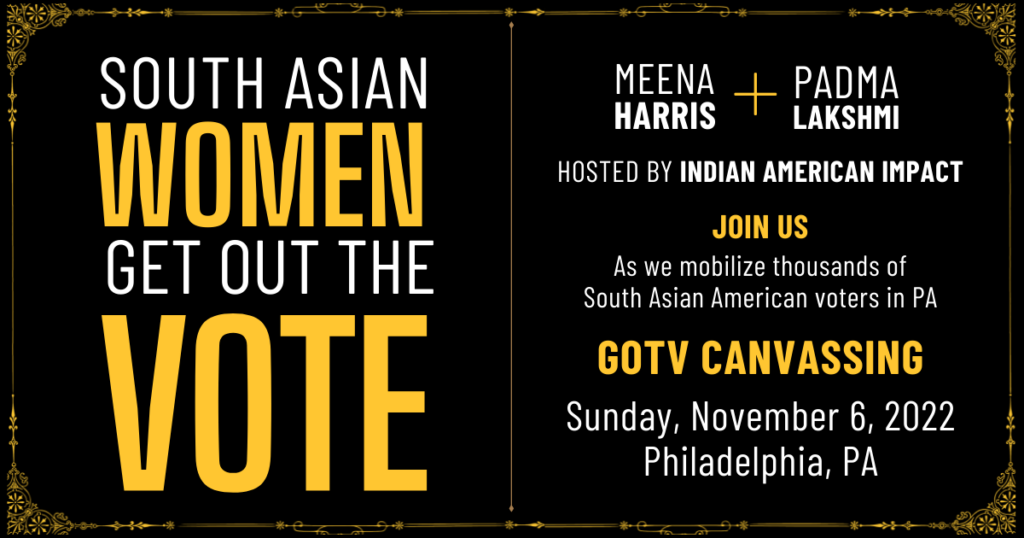 2022 Impact Get Out The Vote

Given the persistent attacks on abortion care, voting rights, and even children's books, the stakes couldn't be higher this election — and we are calling upon our community to help get out the vote in key states like Pennsylvania, where there more than 100,000 South Asian American voters to turn out. With your help, our communities can be the margin of victory just as we were in Georgia in 2020.
Join Top Chef host Padma Lakshmi, Founder & CEO of Phenomenal Media Meena Harris, Rep. Pramila Jayapal, and dozens of other leaders across different sectors and from diverse backgrounds for an exciting weekend highlighted by a canvass launch with food, music, and distinguished speakers before we knock on doors and get out the Desi vote to support the issues that matter most to our community.
Can we count on you to help us get out the vote? Sign up for our canvass launch below.
Community Partners
Special Guests Canvassing With Us
Aishwarya Addepalli, dancer, influencer
Shreya Ahluwalia, food blogger
Saad Amer, Founder, CEO Justice Environment
Chaheti Bansal, Founder of Rooted in Spice
Reva Bhatt, Creative Consultant, Stylist, Founder of Rooted
Raasi Bommu, TikTok content creator
Rekha Brar, Founder Blossom Box Jewelry
Winter BreeAnne, Impact strategist
Aanchal Chugh, Lawyer and human rights activist
Saumya Dave, author, psychiatrist, and mental health advocate
Sujata Day, filmmaker and actress
Nisha Desai, venture capitalist
Nik Dodani, actor and producer
Sonal Dutt, editorial director of People Magazine
Deja Foxx, activist
Shruti Ganguly, filmmaker
Pranjal Jain, Founder of Praali and Global Girlhood
Saru Jayaraman, President, One Fair Wage; Director, Food Labor Research Center, UC Berkeley
Valarie Kaur, civil rights leader, author, and founder of the Revolutionary Love Project
Anjali Kumar, author, attorney, and angel investor
J. Maya, musician
Aditya Madiraju, digital creator
Suneera Madhani, CEO and Founder of Stax
Aditi Mayer, Sustainability activist
Komaljit Minhas, Founder and CEO of Karseva
Raghni Naidu, owner and founder, wine maker
Rekha Malhotra ("DJ Rekha"), Musician, DJ
Hitha Palepu, author and CEO, Rhoshan Pharmaceuticals
Hamel Patel, creative artist and content creator
Sangita Patel, Canadian television personality
Ritesh Rajan, actor
Sarika Rastogi, luxury and fashion consultant
Megha Rao, founder, HoliCHIC
Seerat Saini, Content Creator
Aditi Shah, Peloton instructor
Amit Shah, creative director and show producer
Deepti Sharma, entrepreneur
Versha Sharma, editor-in-chief, Teen Vogue
Ami Sheth, actor, South Asians in entertainment advocate
Sheetal Sheth, actress, producer, author, activist
Aparna Shewakramani, TV personality, author
Ravjoy Mehek Singh, Filmmaker and art activist
Shivani Siroya, CEO of Tala
Liya Thachil, Co-Founder West x East
Sue Varma, Physician/Psychiatrist, TV Expert, Clinical Asst. Professor NYU Medical Ctr.
Hetal Vasavada, cookbook author, Founder of Milk & Cardamom
Malaika Vaz, Filmmaker and CEO, Untamed Planet
Can't make it to Philly? Here are other ways you can support our efforts to mobilize South Asian voters to the ballot box:
And, of course, check your voter registration and make a plan to vote!