2023 Impact Summit and Gala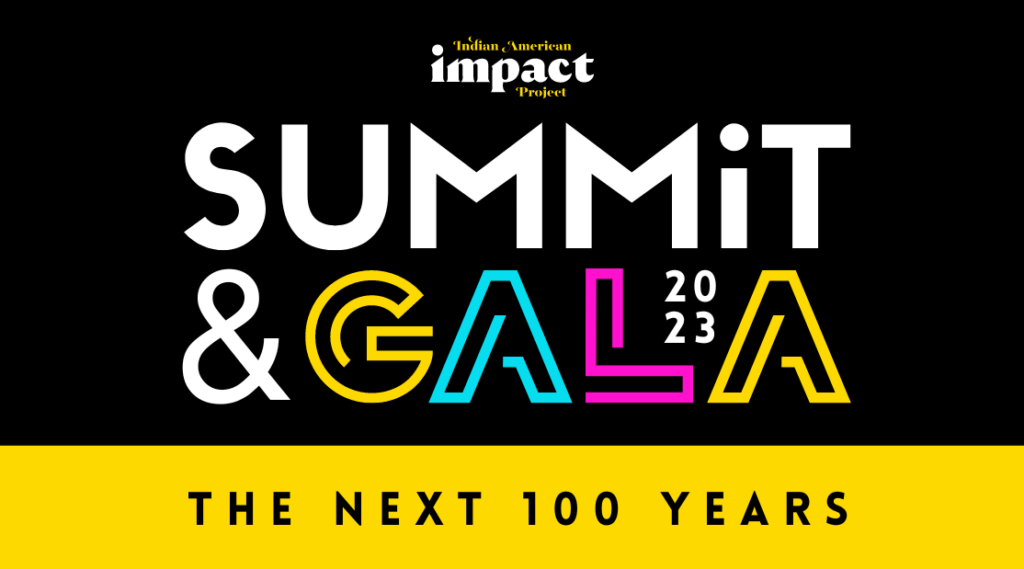 The Indian American Impact Project's 2023 Summit and Gala: The Next 100 Years took place on Tuesday, June 6th, in Washington, D.C.!
Watch our recap videos here!
Interested in receiving communications about future Summits and events? Sign up here to be the first to know!
Program

Impact Summit  |  June 6, 2023
Optional Trainings: 9:00 AM – 11:00 AM EST
Programming: 11:00 AM – 5:00 PM EST

View the tentative program here!

Impact Gala  |  June 6, 2023
Registration and Cocktail Party: 6:30 PM EST


Special Guests

Summit speakers include members of Congress such as Rep. Pramila Jayapal, award-winning authors and filmmakers such as Valarie Kaur; senior policy makers in the Biden-Harris administration such as Jigar Shah at the Department of Energy; elected leaders from across the country like Rep. Ranjeev Puri (MI) and Assemblywoman Sadaf Jaffer (NJ); and dozens of artists, journalists, seasoned campaign experts, and community leaders.

Venue Information

Impact Summit
Washington Marriott Georgetown
1221 22nd St NW
Washington, D.C. 20037

Impact Gala
The Kennedy Center
2700 F St NW
Washington, D.C. 20566

This event is an external rental presented in coordination with the Kennedy Center Campus Rentals Office and is not produced by the Kennedy Center.

Travel & Accommodations

We're pleased to offer two hotel blocks for this event for rooms June 5 – June 7. Space is limited so be sure to book your room as soon as possible!

Washington Marriott Georgetown (the Summit venue) — $279 per night
Book your room at the Marriott Georgetown here by May 15th.

Hyatt Place Georgetown (right next to the Summit venue) — $258 per night
Book your room at the Hyatt Place here.
Guests may also call (202)838-2222 and book under block code IAIB

Nearby airports:
Ronald Reagan Washington National (DCA)
Washington Dulles Intl. (IAD)
Baltimore Washington Intl. (BWI)

Event Sponsors

By joining as a sponsor for the 2023 Summit and Gala, you are investing in the future of our diaspora's civic engagement and participation as we work towards better representation of the more than 5 million in our communities.

Click here to learn more about sponsorship opportunities.

For questions about sponsorship or to confirm participation, please contact liz@iaimpact.org.

Digital Toolkit

Help us spread the word! Our Digital Toolkit contains sample messages and graphics you can share on social media.

Questions?
PAID FOR BY THE INDIAN AMERICAN IMPACT PROJECT